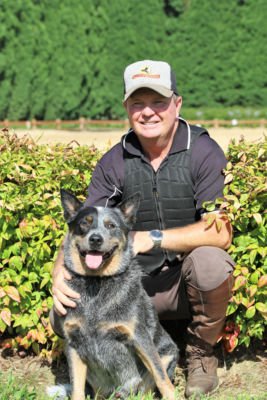 Mobile: 0417 063 399
Email: falconsporthorses@hotmail.com
John Cooper has always had a deep seated passion for racing; both his Grandfather and Father were trainers and John  was an amateur jockey at the age of 16.
John has had a very successful career as an eventer, spanning 30 odd years, as a leading rider in Australia many years in a row, and representing Australia Internationally. He has also trained International riders for 3 Olympic Games, as well as the Asian Pacific Games.
In 2001, John and his wife Pip set up their own 55 acre property 'Falcon Park' at Peats Ridge, where John phased out of eventing and into showjumping and dressage. Their business Falcon Sporthorses of Australia specialises in coaching and training of performance horses as well as breeding and marketing horses both in Australia and overseas.
In May 2017, John had a serious fall from a young horse show jump training at home; he fractured his neck and back in two places and was laid up for 7 months, during most of which he had to wear a full neck brace. During his rehabilitation, he had a lot of time to think!... it had always been a dream of his to train racehorses….so he went about getting his licence.
John is starting off slowly with two tried horses he has acquired through good friends and contacts, and he also has some young horses waiting in the wings.
John and Pip are thoroughly enjoying the racing. They are only able to do it on a small scale at the moment but hope to gradually develop the racing side of their business and look forward to an exciting future!