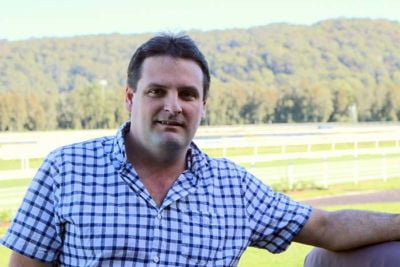 Mobile: 0410 845 145
Email: newingracing@yahoo.com.au
Twitter: @NewingRacing 
Facebook: Newing and Sons Racing
Even as a schoolboy, there was a pretty fair chance Tony Newing was going to be permanently involved in the horse racing industry. When you're prepared to "jump the fence" to go to a trainer's stables after school, then racing must be in your blood.
Tony now has a stable of his own at Gosford and is starting to make his peers take closer notice of his training abilities. Without doubt Tony is one of the bright lights In NSW training ranks.
Born in Roma Queensland, Tony left school at 15 to chase his dream. In 1999, he moved to Sydney and spent a few months working with Hawkesbury trainer Garry White, who at the time was a private trainer for Hobartville Stud.
He then moved to Muskoka Farm and spent "about three years" there. Then an opportunity arose to work with well-respected Sydney veterinary surgeon and Nature Vet founder Gerry Rose who owned a stud farm at Somersby. Unfortunately, Gerry passed away soon after, so Tony decided to branch out and then leased a block of 8 stables at Gosford.
"It has been a really good move. Gosford is a great place to train and the club is in good hands and very progressive"
On top of training Tony does pre-training as well as breaking in of yearlings.
Tony has had amazing success in purchasing quality, budget yearlings and producing first class results from them. Tony's most productive horse to date has been an $8,000 Magic Millions purchase called Timeless Prince. To date Timeless has had 68 starts for 12 wins and $553,000 in prize money/bonuses and winning the Listed Sunshine Coast Cup, Scone Country Cup and the Tamworth Cup
Tony's Gosford operation is a real family affair with his wife Stacey being "full-time" and his biggest asset. Their 2 boys Richard (13) and Angus (11) also show a keen interest in the horses and regularly go to the stables.
Tony's ability to acquire budget priced horses and get results with them through his "I don't mind how far I have to travel to get a win" mind set is why SJ Racing has formed a partnership with this young and up and coming Trainer.
Come Race With Us!
SJ Racing Scone 2017 Yearlings
SJ Racing Magic Millions 2017 Yearlings