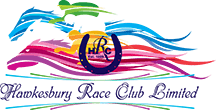 All reciprocal club members are to pay for General Admission then will be granted a free Members Pass upgrade for the day. Reciprocal members will also receive up to two complimentary Members Passes, additional passes may be purchased. This is applicable only on non-feature race days, excluding:
-Hawkesbury Cup Day-Hawkesbury Ladies Day
Please contact the Hawkesbury Race Club if you wish to attend a meeting with reciprocal rights.
http://www.hawkesburyraceclub.com.au
1 Racecourse Road, Clarendon, NSW 2756
4577 2263
admin@hawkraces.com