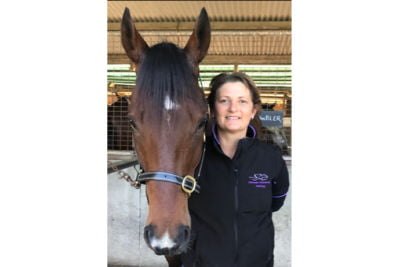 Mobile: 0418 112 367
Email: carmenjm2002@yahoo.com.au
At a very early age Carmen had a love for horses and started her early riding after joining her local pony club.  After excelling at pony club she moved her discipline over to endurance riding searching for further challenges to improve her skills.
It was about the same time she completed schooling that Carmen moved into working with thoroughbreds and found a job as a stablehand at small nearby stud to where she lived. This allowed her to then take up a position working full time with Ballina based trainer Sue Birney attending stable duties where she started to build on her training and horse skills.
A position with Chinese owned Domeland was then taken to ride trackwork and stablehand duties. It wasn't long before she started moving through the ranks, eventually graduating to Stable Manager overseeing the whole operation over a 10 year period that at times could have up to 200 horses being prepared and trained for local and overseas racing.
A great relationship blossomed with the overseas owners and Carmen soon found herself in China riding work for Domeland and further expanding her training skills. With an appetite to grow her training knowledge she decided to travel further taking up positions with Cato Farm in Japan and trainer Michael Halford 'On the Curragh' in Ireland before eventually heading back home.
Upon arriving back in Australia she started working with the renowned trainer Albert Stapleford where she was able to gain further invaluable knowledge to prepare for training her own horses.
Not long after arriving back in Australia, Carmen met jockey Chris O'Brien and have now developed a great partnership. A veteran of over two decades in the saddle, Chris recently won his first Group 1 race on top class sprinter Sincero in the 2011 George Main Stakes.
Carmen now trains from her Gosford base where she shares riding of her team with partner Chris each morning, keeping her very close to the progress of each of her horses. This has served her well achieving some great winning results from her small team. She enjoys taking on tried horses that other trainers may be struggling with and giving them a new opportunity to shine under her care.
Carmen is very passionate about training her horses and loves what she does. She encourages you to give her a call if you have a horse looking for a change of environment or a young horse looking to be educated and put through its paces.