MICHAEL D'SILVA APPOINTED DIRECTOR OF GOSFORD RACE CLUB BOARD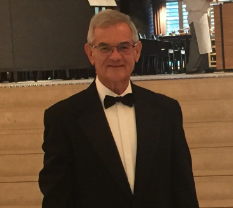 It is with great regret that we announce the resignation of Director, Life Member and former Vice-chairman Jim MacFadyen from the Board of Directors. Jim has been an influential member of the Gosford Race Club Board for over ten years and will be sadly missed. Consequently the Board has exercised its power under the Club's constitution to appoint respected local businessman and race enthusiast, Michael D'Silva.
Chairman, Michael Cusick stated "The board is extremely sad to see Jim retire from his long-standing position on the Gosford Race Club board. Jim is very well connected on the Coast and his tremendous contribution for over a decade will be greatly missed. However the Club is extremely fortunate to have a man with the exceptional experience of Mike D'Silva available to take his place. Mike joins us with significant connections within the local region as well as a strong understanding of corporate and financial governance which will aid in achieving the Club's strategic goals."
Mike has a track record of success, transformation and achievement over a career spanning forty-seven years with Westpac Banking Corporation. He has held senior positions in London and the US, as well as that of Managing Director of Westpac Institutional Bank in Australia. In these roles, Mike managed large teams of professionals, providing financial market services to clients in key business segments.
Since retiring, Mike has focused on his love for thoroughbred racing as well as supporting a number of charity organisations. For the past twenty-five years, Mike has worked with the ASX Refinitiv Charity Foundation, which raises approximately $1.3m per year for a number of children's charities and medical research organisations. Mike is also actively involved with the Westpac Rescue Helicopter Service, working with local businesses and the community, raising funds to enable this vital free service to operate 24/7.
Mike has owned and raced numerous horses over the years and is a regular race goer, both at Sydney and Gosford racecourses. He also has a strong interest in the welfare of the thoroughbred, especially in their post racing careers. After relocating to the Central Coast over twenty years ago, Mike now lives on acreage in the mountains with his wife, family and seven retired thoroughbreds.
Gosford CEO Daniel Lacey said "I'm sure all our members and the local racing community will warmly welcome Mike D'Silva and extend their gratitude and appreciation to Jim MacFadyen. I look forward to working with all our Board Members as we strive to make The Entertainment Grounds the premier sporting and entertainment venue on the Central Coast."