THE SYDNEY COMEDY CLUB RETURNS TO THE ENTERTAINMENT GROUNDS THIS JANUARY!
Featuring hilarious comedians Terry Hansen, Emma Malik (all the way from the UK!) and Keith Scott.
DOORS OPEN AT 6:30PM WITH THE SHOW TO BEGIN AT 8:00PM.
Pre-Purchase your comedy tickets today for $25 or purchase on the night for $30
Note: Pre-Sale will close at 3.00pm Friday 11 January
Please note: NO Seat Allocations will be made until the day of the event. Please contact The Entertainment Grounds directly for group or joint booking requests .View the indicative floor plan here
---
MEMBERS SPECIAL
The Entertainment Grounds Members can purchase Admission tickets for the special price of just $15! *Limit of 5 tickets per member
Not a member? You can become a 2018/19 Member for just $59!
---
COMEDY NIGHT MENU
SHARE PLATTERS
Asian Basket – $16.50
Includes coconut prawns, mini spring rolls, samosas, dim sims, prawn crackers and sweet chilli sauce – serves two
Mexican Pulled Chicken Nachos – $18.00
Delicious pulled chicken breast, corn chips, sour cream and a mild salsa – serves two
Antipasto Platter – $19.00
A selection of cured meats including pancetta, pastrami and Hungarian salami, Greek Fetta cheese, chargrilled red capsicum, Kalamata Olives, tomato relish and crisp parmesan toasts – serves two
Seafood Basket – $25.00
Hand rubbed salt and pepper calamari, flathead fish goujons, coconut prawns, beer battered chips, tartar and fresh lemon – serves two
FOR THOSE WHO DON'T LIKE TO SHARE!
Steak Sandwich – $14.00
Served on a toasted brioche loaf with tomato relish, aioli, caramelised onion and a mixed leaf salad
Caesar Salad – $10.00
Fresh cos lettuce, house made croutons, crispy bacon, egg and caesar dressing
Add Chicken + $3.00
Bowl of Wedges – $ 7.00
Served with sour cream and sweet chilli
Over 18s only.
---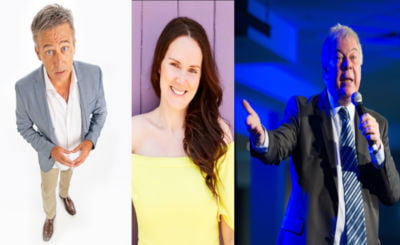 TERRY HANSEN
For 30 years Terry has worked with the Biggest names in Stand-up comedy, without becoming one of them. That's because he is one of Australia's Best Comedy MCs including the opening Saturday Nights of the last 3 Sydney Comedy Stores Venues.
His rapid fire audience response saw him dubbed "The Horse Whisperer of Bucks Party's"
For 15 years (and far too early in the morning!) Terry was the funny man for Brisbane's No 1 Breakfast Radio Show on 973fm!
EMMA MALIK
Emma made her on screen debut on Thailand's Got Talent – a true story which we're not going to spoil for you here. She went on to play the female lead for a well-known condom brand and has appeared on Nickelodeon and the Darren Sanders Show – and even managed to land the role of the "before" for a diet shake commercial.
Emma's debut solo show 'If You Can't Train It, Eat It' introduced Sydney audiences to her quick wit, audience interactions, high energy… and of course her many-legged co-stars.
After completely selling out Sydney Fringe and a subsequent "encore" show added thanks to extreme demand, 'English rose' Emma will open her charming, yet oh so dirty mouth and tell you things that David Attenborough never would.
KEITH SCOTT
Keith has been Australia's leading impressionist and cartoon voice since starting in the Sydney office of animation giant Hanna-Barbera. Keith made many appearances on TV shows as a comic impressionist, including 'Hey, Hey, It's Saturday' and 'The Midday Show'.
Across Australia he can be heard on some fifty radio stations, skewering the reputations of media and political types in the satirical comedy 'How Green Was My Cactus', which has run a record twenty nine years.
It was his expert "matching" of great Hollywood cartoon characters for which Keith became internationally famous. In 1990 he was appointed an official licensed voice of Warner Bros.' Looney Tunes characters for Australasia, and since then he did Bugs, Daffy and the rest for countless animated TVCs, live shows and promos.
In 1997 the Disney Company flew Keith to Hollywood to be the Narrator voice in their hit feature George of the Jungle starring Brendan Fraser.
In 2000, Keith did the starring voices of Bullwinkle and the Narrator for the big-budget Universal feature The Adventures of Rocky and Bullwinkle. During the shoot, Keith worked for five months alongside major names like Robert DeNiro, Billy Crystal, Jason Alexander, Whoopi Goldberg and John Goodman.
The next year he recorded the voices of Bugs Bunny & the Looney Tunes gang for two large projects: America's theme-park chain Six Flags, and for a UK Pantomime theatre production.
Bookings